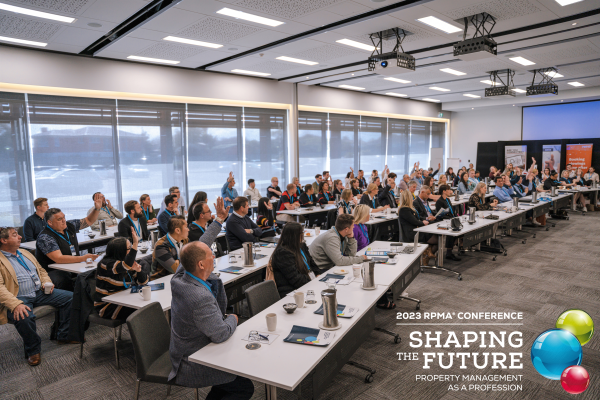 RPMA Conference 2023: A Resounding Success!
The Residential Property Managers Association of New Zealand (RPMA) recently hosted its RPMA Conference 2023, "SHAPING THE FUTURE: Property Management as a Profession". An event that brought together industry professionals and experts for a day of insightful discussions and valuable networking opportunities. The conference, held on 13 September 2023 emerged as a resounding success.
Diverse Perspectives, Exceptional Insights
One of the highlights of the event was the lineup of distinguished speakers who shared their expertise and insights with the attendees. The speakers were:
Chris Bishop - "Solving New Zealand's Housing Crisis"

Jenny Robson - "Enhancing Property Management through the Insights of the Tenancy Tribunal"

Tony Alexander - "The Outlook for the Residential Property Sector"

Sarina Gibbon - "Lifting your game - how to create growth for your property management business"

Miles Stratford - "Overcoming the Meth Minefield"

Tony Saipele & Vivian Vo - "Revealing MBIE's Scorecard of Property Managers"

Rebecca Whitt - "Managing Your Mind"
Their talks covered a wide array of topics crucial to property management, including market trends, regulatory updates, and strategies for success.
Networking and Collaboration
Apart from the enriching talks, the conference offered an excellent platform for attendees to network and collaborate. Professionals from various parts of the property management industry exchanged ideas, shared experiences, and forged potential business partnerships. The networking sessions were a valuable aspect of the conference, fostering a sense of community within the industry.
Looking Ahead
The success of RPMA Conference 2023 has set the stage for future events, promising even more value, knowledge sharing, and growth within the property management sector. RPMA remains committed to providing opportunities for industry professionals to connect, learn, and thrive. Stay tuned for more exciting events and conferences that empower property managers and elevate the industry as a whole.